Travel to Askö
Askölaboratory belongs to Stockholm University Baltic Sea Centre and is situated 80 km south of Stockholm in the archipelago of Trosa (58° 49.5' N, 17° 39' E).
To get to Askö you need to travel by boat with the Askö staff. It departs twice a day, from Uttervik in the Trosa region. You have to drive to Uttervik from Stockholm (1 h), Nyköping (45 min) or from Vagnhärad/Trosa (15 min). The laboratory is not open to the general public, only pre-booked guest can join the daily boat-runs.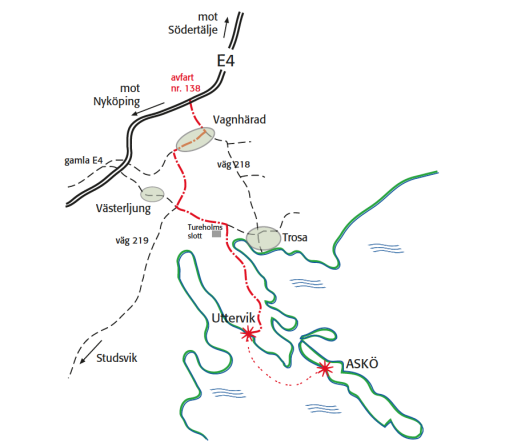 Travel to Uttervik - where our boats depart
Road description:
Exit the free way E4, at exit no 138 towards Trosa.
Turn right towards Studsvik, and go through Vagnhärad.
Turn left on road 219 towards Studsvik and Västerljung.
Turn left at the sign "Trosa 5 km".
Turn right towards "Uttervik 7 km", right after Tureholm castle.
Follow the road, all the way to the harbour of Uttervik, where you will find parking places.
No car?
There are no buses to Uttervik. The closest place to get to is Trosa or Vagnhärad. From there you can book a taxi. Contact the Askö-personell for tips about co-driving with other guest, or if you need help with transportations!
To and from the island:
The boat ride to Askö takes 10-25 minutes depending on the boat used for the transport. Some cold winter days transport to the island is done by scooter on the ice.
Courses and meeting will be transported after agreements. It is included in the charge for the stay.
Researchers travel on regular boat-rides. (no runs on weekends and holidays!)

from Uttervik to Askö at 8:00
from Askö to Uttervik at 16:00 during summer (1/5-15/9), and 16:30 during winter (16/9-30/4).
If needed, and if it is possible, there is an extra uncharged ride at 10:00 (from Askö to Uttervik) and at 10:30 (from Uttervik to Askö).
Don't forget to inform the staff before 14:00 the day before you want to travel to Askö!!!
Other arrangements:
Do you have other needs? Please don't hesitate to contact us! We will try to do anything we can to make your trip to Askö easier.
Taxiboat:
If necessary there is always taxi-boats. It will costs approximately 1000 SEK.
Staffan Hammar, lives in Uttervik, +46 70-533 6979
Last updated: March 3, 2020
Page editor: Nastassja Ekelöf
Source: Östersjöcentrum