Unique workshop for young scientists
EVENT
Date:
19 August 2019, 2.00 PM
-
19 August 2019, 6.00 PM
Venue:
Vivi Täckholm lecture hall, Svante Arrhenius väg 20A
Baltic Sea Science Congress and BONUS welcome young scientists to take part in a unique training session with communication trainer Nancy Baron.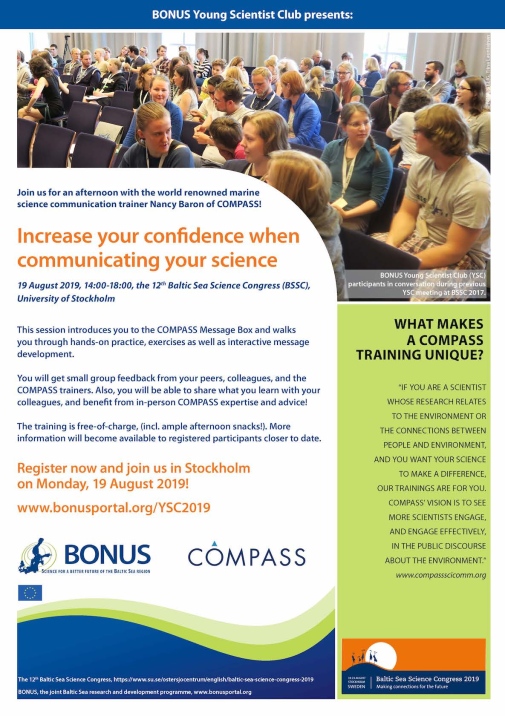 Young scientists in the Baltic Sea region are highly welcomed to the 12th Baltic Sea Science Congress and as in previous years the research and development programme BONUS own Young Scientist Club arranges a training session especially for this target group.
The session is led by the world renowned marine science communication trainer Nancy Baron. Baron is the Director of Science for COMPASS and the workshop will introduce the young scientists to COMPASS Message Box and walk them through hands-on practice, exercises and interactive message development.
"You will get small group feedback from your peers, colleagues, and the COMPASS trainers. Also, you will be able to share what you learn with your colleagues, and benefit from in-person COMPASS expertise and advice" explains BONUS Young Scientist Club.
"Attracting young scientists to the Baltic Sea research field is crucial for the future and we are very pleased that BONUS chooses to arrange this important training session" says Christoph Humborg, Scientific leader of the Local Organisational Group at Stockholm University's Baltic Sea Center.
Read more and register at the BONUS Young Scientist Club website www.bonusportal.org/YSC2019.
When and where
The training will take place 19 August 2019, 14:00-18:00, at Stockholm University and is free-of-charge.
The venue takes place in Vivi Täckholm lecture hall. The address is Svante Arrhenius väg 20D, but the most convenient entrance from the Metro is through Svante Arrhenius väg 20A. There will be signs leading the way from the Metro.
Last updated: August 12, 2019
Page editor: Lisa Bergqvist
Source: Östersjöcentrum