Marine Modelling Group - a new resource for the University
EVENT
Date:
06 December 2017, 4.00 PM
-
06 December 2017, 7.00 PM
Venue:
P216, NPQ-building, Svante Arrhenius väg 20A
The Marine Modelling Group (MMG) is now taking form at the Baltic Sea Centre with the explicit aim of creating a resource and focal point for marine modelling at the University! During 2017's final Baltic Seminar, researchers from different departments were invited to learn more about collaborative alternatives within the MMG.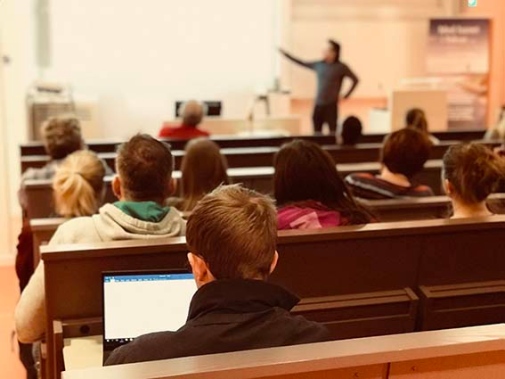 Based on 10 years of modelling experience
Since 2008, the Baltic Sea Centre hosts a strong marine modelling group with the Baltic Nest Institute (BNI), covering physics, biogeochemistry and food-web modelling. For 10 years the BNI Baltic Sea models and decision support system Nest have been the foundation of the Baltic Sea Action Plan, and the nutrient reducing commitments for all the Baltic Sea countries. BNI is also strongly anchored within the scientific community, and have participated in numerous BONUS-research projects.
- This support system is a great example of where science meets policy, Prof. Christoph Humborg presented.
Experts in large-scale modelling
The new Marine Modelling Group will be based on the experiences and competence of BNI but it will scope a wider range of modelling problems than BNI's previous focus:
- Large-scale modelling an scaling-up process knowledge is where our expertise is. It would be nice to develop and to couple process models to various interactions, such as fluxes or biota coupled to biochemistry, said Dr. Bo Gustafsson, Director of the BNI. We also have a vision of building capacity around the 3D-modelling of the coastal sea.
Plans are that the MMG will work along two overarching themes:
Earth system modelling - develop the existing holistic Nest modelling approaches to scale up processes and investigate long-term dynamics (both paleo and climate)
Coastal dynamics - understanding coastal ecosystems including process modelling of ecosystem processes (e.g., interactions between biota and geochemical fluxes) and initiate a development of a coastal high-resolution model that can be used as an infrastructure to many coastal applications.
- We have clear objectives from Hav and HELCOM and the MMG can be encompassing focus of this work. The main thing now is to go into this strategic research initiative and see what cooperations we can find once we have all the scientists in place, Humborg concluded.
About Baltic Seminar
Baltic Seminar is a seminar series aiming to promote current marine issues related to Stockholm University and strengthen its marine research community. All university employees and students are welcome, as well as affiliated who work with marine science!
Last updated: December 19, 2017
Page editor: Isabell Stenson
Source: Baltic Sea Centre