Policy Brief: Fishing ban and more knowledge required to save the European eel
If the endangered European eel population is to recover there is an urgent need for a fishing ban, increased environmental monitoring and fewer obstacles to migration. This is concluded by the researchers at Baltic Sea Centre in a new Policy Brief.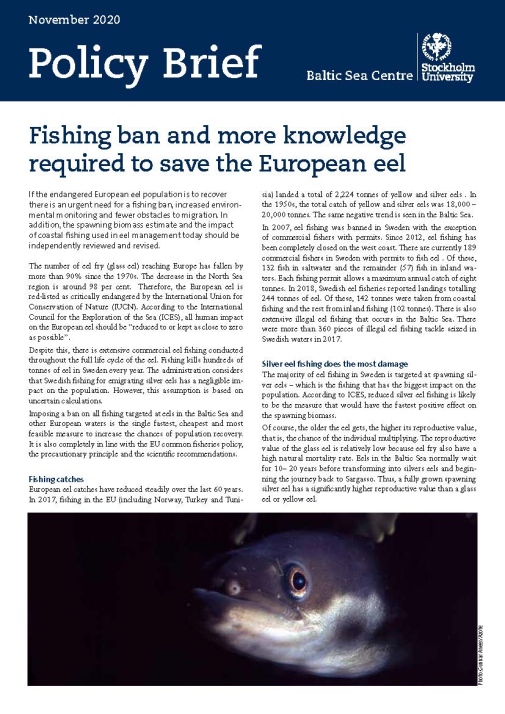 The number of eel fry (glass eel) reaching Europe has fallen by more than 90% since the 1970s. The decrease in the North Sea region is around 98 per cent. Therefore, the European eel is red-listed as critically endangered by the International Union for Conservation of Nature (IUCN). According to the International Council for the Exploration of the Sea (ICES), all human impact on the European eel should be "reduced to, or kept as close as possible to, zero".
Despite this, there is extensive commercial eel fishing conducted throughout the full life cycle of the eel. Fishing still kills hundreds of tonnes of eel in Sweden every year. Nonetheless, the fisheries management considers that Swedish fishing for emigrating silver eels has a negligible impact on the population. However, this assumption is based on uncertain estimations.
Imposing a ban on all fishing targeting at eels in the Baltic Sea and other European waters is the single fastest, cheapest and most feasible measure to increase the chances of population recovery. It is also completely in line with the EU Common Fisheries Policy, the precautionary principle and the scientific recommendations.
Policy recommendations
Ban on all fishing targeting eels in Swedish waters. Prioritise winding up fishing for spawning silver eels.
Work towards a ban on all fishing targeting eel in the Baltic Sea and in other European waters.
Cease all stocking of eels above hydroelectric power plants and other obstacles to migration.
Remove as many obstacles as possible in accordance with the EU Water Framework Directive. Prioritise small waterways in the western and southern Sweden.
Initiate an independent scientific review of current estimates of fishing mortality, turbine mortality and biomass of spawning silver eels, which are currently used as a basis for decision-making in the eel management in Sweden.
Expand environmental monitoring for the purpose of (a) filling gaps in important scientific knowledge on the state of the eel population in terms of biomass, density and mortality, and (b) analysing and evaluating the impact of the measures taken for the purpose of population recovery.
Further reading
Read or download the full Policy Brief here:

Fishing ban and more knowledge required to save the European eel (1667 Kb) (pdf)
Contact
Henrik Svedäng, Researcher
Charles Berkow, Advocacy and Analysis Officer
Last updated: November 12, 2020
Page editor: Lisa Bergqvist
Source: Östersjöcentrum