Policy Brief: Time for smarter and safer chemical management
Today's massive flow of chemicals places new demands on risk management. This new policy brief explains why – and how – mixture risk assessment and group-wise chemical management can be introduced into all European chemical legislation in order to ensure a high level of environmental protection.
Grouping and mixture risk assessment in European chemicals legislation
Organisms in the environment are not exposed to single substances in isolation but to complex mixtures of chemicals from numerous sources over the course of their lives. The science is clear – the risk associated with a chemical mixture exceeds the risk of each individual chemical in the mixture.
Therefore, assessing and managing each chemical in isolation is insufficient. Organising chemicals into well-defined groups helps to reduce the complexity of chemical risk assessment and management. In order to ensure a high level of environmental protection, European legislation must address two crucial aspects of the regulatory system for chemicals control, namely mixtures and grouping of chemicals.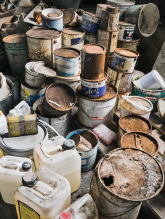 POLICY RECOMMENDATIONS:
Establish consistent requirements for mixture risk assessments in all pieces of chemical legislation. Without such requirements, effective protection against risks from exposure to mixtures will not occur.

Establish crosscutting European legislation on chemical pollution with a focus on mixture risks. Chemical mixtures cannot be fully evaluated and managed by sectorial pieces of legislation.
Strengthen the mandate in REACH to manage groups of chemicals to avoid regrettable substitution. Grouping will also contribute to increase efficiency and to reduce mixture risks.
Improve mixture risk assessment and grouping of substances in the context of European water management. The directive is recipient-oriented and in principle should be able identify and undertake measures against chemical pollution created by chemical mixtures.
Read the full Policy Brief:

Policy Brief: Time for smarter and safer chemical management (510 Kb)
CONTACT
Christina Rudén, Department of Environmental Science, Stockholm University, christina.ruden@aces.su.se
This Policy Brief is a co-production between the Baltic Sea Centre and the Department of Environmental Science, and is based on the findings and analyses made in the report Future chemical risk management – Acoounting fom combination effects ans assessing chemicals in grups (SOU 2019:45) to the Swedish Minister for Environment and Climate.
Last updated: June 2, 2020
Page editor: Nastassja Ekelöf
Source: Östersjöcentrum