Baltic Bridge - bridging gaps in Baltic Sea science
Last week researchers from Stockholm University and the University of Helsinki met to discuss concrete collaboration on Baltic Sea research and education. This initiative is part of the strategic collaboration between the two universities. The meeting was held in perfect spring weather at beautiful Askö.
This was the second researcher meeting after the first kick-off meeting was held at Tvärminne zoological station (TZS) a year ago. While the aim of the first meeting was to get to know each other and learn about different Baltic Sea-related research topics in the two universities, the aim of this second meeting was to start planning concrete, joint research projects.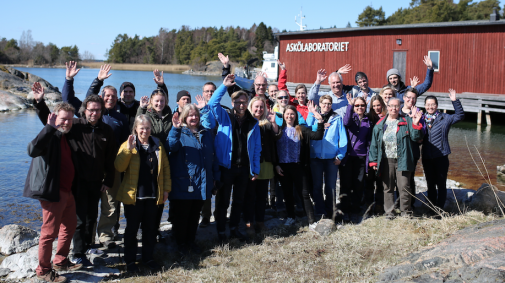 - The next steps will, in addition to concrete research projects, include workshops dedicated to specific research questions, data mining, and proposal writing for future joint projects, says Joanna Norkko, research coordinator at Tvärminne zoological station. The first joint project starts already this summer (PhD students Åsa Nilsson and Charlotte Angove).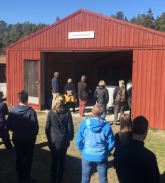 During the meeting that was held from lunch-to-lunch 11-12 of April 2016, the researchers introduced their research and then spent most of the time in group discussions. Based on the discussions everyone had the possibility to take a closer look at different research equipment available at the laboratory. There was also time to mingle and socialize in the inspiring achipelago environment at Askö Laboratory.
New research vessels
Christoph Humborg, scientific leader at the Baltic Sea Centre, presented the new research vessel R/V Electra (24.3 m), which is scheduled to be delivered to Askö in June. The vessel, with its modern technology and instrumentation, will raise the capacity for modern coastal research to a whole new level. The experiences gained by staff at Askö and the Baltic Sea Centre are also very valuable for staff at TZS, as the planning of a new vessel (16 m catamaran) will start soon at TZS.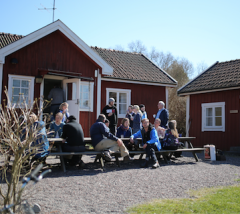 Joint educational efforts
There are preliminary plans for a PhD course in 2017, focusing on benthic ecosystems, with a field component at Askö utilising the new instrumentation available on R/V Electra. There are also plans for research cruises with R/V Electra to the area around TZS.
Important communication
Members of the collaboration also started thinking of potential and sustainable ways to communicate between the universities. An e-mail list will be started, a facebook group has been launched and this homepage will be used for all official news.
LINKS & SOCIAL MEDIA
Webpage www.su.se/ostersjocentrum/balticbridge
#balticbridge
Contact joanna.norkko@helsinki.fi or nastassja@su.se to join the mailing-list for Baltic Bridge.
Last updated: April 21, 2016
Page editor: Nastassja Ekelöf
Source: Baltic Sea Centre