Fysikum - the Department of Physics at Stockholm University
Fysikum has around 240 employees, including 90 PhD students. There are 50 professors and senior lecturers, 70 researchers and postdocs, and a technical and administrative staff of 30 persons. There are also around 250 students on the first-cycle and second-cycle study programmes.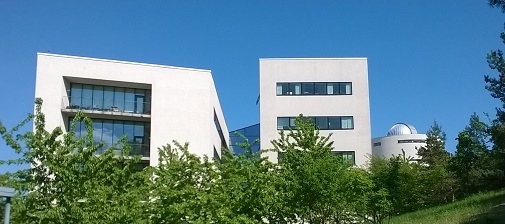 Information about the department
Contact information
Phone list and other information about how to find people.
Contact information
Computer system and IT service
To get in contact with the system administrators of the department, send an e-mail to dsa@fysik.su.se.
Most employees have an e-mail address of the type Firstname.Secondname@fysik.su.se. (This is true also for people who use other adresses, since the mail system is set up with aliases from the formal to the physical address.)
Fysikum IT service
The Library at Fysikum (AlbaNova)
The library at Fysikum (AlbaNova) no longer exists, but the Stockholm University Library is available.
Research divisions
The research divisions at the department are presented here.
Research divisions
Technical Division
The Technical Division is a base resource for the experimental research at Fysikum, and offers special competence in technical fields like electronics, mechanical design and vacuum technology.
Technical division
Mechanical workshop
The mechanical workshop is common to the AlbaNova University Center. Work is done mainly for research and education, both internally within AlbaNova and on external assignments.
Mechanical workshop
Finding your way to Fysikum
Fysikum is situated in the Albano area close to the main university campus at Frescati in the northern part of Stockholm.
You can easily access Fysikum, both by public transport and private car.
Maps and directions
Last updated: December 14, 2021
Source: Fysinfo