Structural dynamics of aqueous solutions (SDAQS)
In the group we are interested in understanding role of water in chemical and biophysical processes from a statistical physics perceptive. We study the structural dynamics of aqueous solutions, including nanoparticles, organic molecules and proteins in supercooled and glassy states. We combine state of the art experiments at X-ray facilities with high performance computing data analysis techniques and molecular dynamics simulations to reach a deeper mechanistic insight.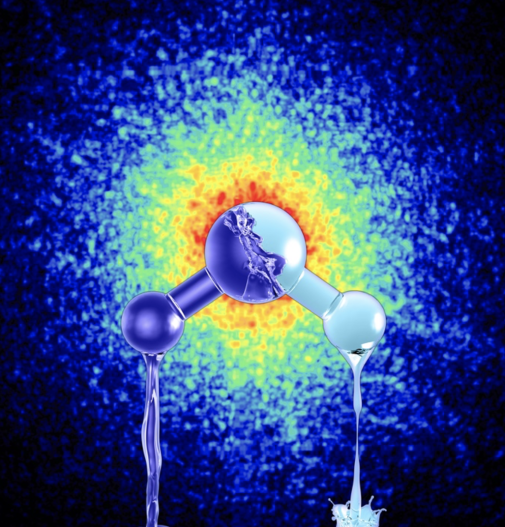 Our experiments involve the use and development of coherent scattering techniques at large scale X-ray facilities such as synchrotrons, such as the MAX IV, and X-ray free-electron lasers (XFELs) like the European XFEL. We specialize in X-ray Photon Correlation Spectroscopy (XPCS) and time-resolved X-ray Scattering as methods for following structural dynamics in solutions, using hard X-rays. In addition, we develop X-ray compatible sample environments and employ in-house setups such as dynamic light scattering, X-ray diffraction and IR spectroscopy.
See here for research projects
See here for group members
See here for a list of publications

We often have open positions, so please email Fivos if you are interested in bachelor and master thesis projects, as well as in PhD and Postdoc positions.
We would like to acknowledge the following sources for support and funding:
Swedish Research Council – Vetenskapsrådet: Starting Grant (2019-05542)
Swedish Research Council – Vetenskapsrådet: Röntgen-Ångström Cluster (2019-06075)
Carl Tryggers Stiftelse, host for postdoc scholarship
Wenner-Gren Stiftelserna, host for postdoc scholarship
The MaxWater network initiated by Max Planck Institutes and selected external partners
The Centre for Molecular Water Science lead by experts from DESY and several cooperation partners
Swiss National Science Foundation (SNSF): Early Postdoc Mobility Fellowship (P2ZHP2-148666)

Last updated: May 8, 2022
Source: Fysinfo