Information about courses given during the autumn semester
From August 31 2020, Fysikum at Stockholm University will open for campus education. The transition will take place taking current circumstances into account, and following recommendations from the government. Teaching will be given both online and on campus.
The guidance from the Swedish Public Health Agency must be followed at all times, meaning that:
- gatherings of more than 50 persons are not allowed
- physical distancing must be observed for teaching on campus
- we will as far as possible avoid rush hour traffic, and spread campus teaching in time.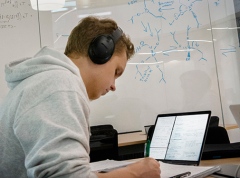 The Department of Physics strongly believes that on-campus teaching is generally to be preferred from a pedagogical point of view. Especially practical elements in courses (such as labs) and exams are difficult to replace, whereas lectures more easily can be transferred online with preserved quality. At the same time, we feel great responsibility towards both staff and students, and wish to minimise the risk for transmission of disease.
General policy for courses during the autumn semester
The Department of Physics has now decided that the following directives applies throughout the autumn semester:
Teaching will be given both online and on campus. Teaching must include elements which allow students to interact with the lecturer in real time, i.e., courses may not solely comprise self-studies and recorded lectures. Students who are taking their first semester at the department may require more time on campus, and for these groups there is a possibility to schedule more campus-based teaching. Also courses with few (up to ~10) students may be given permission to have lectures on campus, if doing so gives a significant pedagogical advantage and given that the recommendations from the Swedish Public Health Agency can be followed.
Practical elements in courses (such as labs) will be given on campus, unless fully comparable activities can be offered online. Labs will be arranged in smaller groups, allowing for physical distancing.
Exams will be planned on campus. An overview of all rooms will be made in order to ensure that physical distancing can be maintained. If the head of a course deems that a fully comparable alternative exam can be conducted online, this is to be preferred. Such options are mainly available for our second cycle courses.
Students who for any reason are unable to participate in teaching on campus will be offered the opportunity to complete practical elements in the later part of the semester (e.g., in commotion with the re-exam period).
Information about the specific details for each course given during the first half of the semester will be announced on the course page in the online catalog, under the heading "Teaching autumn 2020".