Meet former Medical Physics student Apostolos Raptis
Apostolos Raptis began his studies at the Department of Physics, Stockholm University, in the autumn 2015, as a master student from Greece. He enrolled in the 3rd year of the Medical Physics program and graduated in June 2018. Since December 2018 Apostolos works at the Karolinska University Hospital in Stockholm.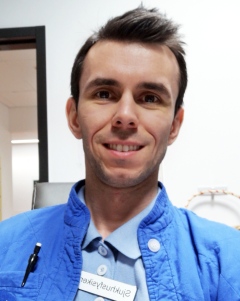 Why did you choose Fysikum for you master?
As an international student coming from Greece, I have always had a very good opinion about the research that takes place in Sweden. Fysikum is the most popular university department for medica phyics in Sweden, so the choice was quite easy.
What was your project about?
The masters project that I was assigned to was an investigation of the second primary tumours that can be caused from radiotherapy of breast cancer patients. It was a risk comparison between photon and proton radiotherapy.
What was the best of your experience at Fysikum?
I would say that the clinical courses and the contact that we made with the actual work of a medical physicist has helped me decide which will be the direction that I want to follow regarding my future profession.
How was living in Stockholm for you?
Life in Stockholm can be very challeging for a newcomer. Accomodation is the biggest issue that all the foreigners are facing, so I would definitely list this on the top of the negative aspects of life in Stockholm. On the other hand, Stockholm is a city with rare beauty, amazing nature even in the middle of the city and really good means of transportation.
Would you suggest the Master's programme in Medical Radiation Physics at Fysikum to other students?
The Medical Physics programme is coordinated by scientists that have excelled in their fields, people that want to recruit and train the future generations of Medical Physicists that in turn will ensure high quality treatments and safety for the patients and the public. Therefore, I think it is an exciting experience to be part of a quite special group of physicists that want to contribute to the health system.
If you had to summarize your experience at Fysikum in less than 10 words, what would you say?
Unique and exciting experience.
Some useful links:
Master's Programme in Medical Physics
Practical information for international students