Research without flying - is it possible?
We all know how it works. To be a successful researcher you should be mobile and internationally visible. You should build your CV by giving talks at international conferences, educate yourself by participating in summer schools in exotic places and carry out state-of-the-art research at international laboratories and famous institutes.
But how are you supposed to do all this and still reduce your emissions of greenhouse gases to the 1-2 tons per person and year that it takes to be in line with the Paris agreement [1]? For me personally, the academic year 17/18 was one of the worst since I managed to squeeze three intercontinental trips into a six months period - a conference in India, a collaboration meeting in Japan and another conference in South Korea. My climate declaration gave a very clear message. That I drive an electric car, abstain from eating meat and buy as much as I can second hand was not even close to compensate for the 7.5 tons of C02e emissions that my flights had generated. I could no longer ignore the facts. I needed to reduce my carbon footprint.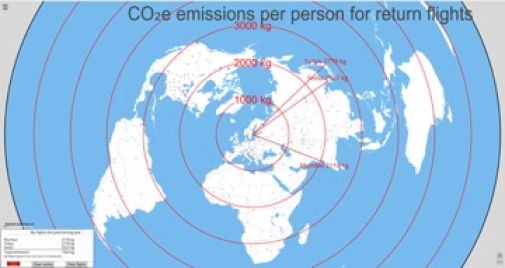 To restrict myself to stay on the ground no matter what did not feel realistic. But to reduce my emissions greatly by avoiding travel that was not strictly necessary and to take the train whenever possible seemed doable.
I have the fortune of already being an established researcher with a permanent position. So skipping conferences outside of Europe did not feel like a big sacrifice. But as a particle physicist I need to go to CERN several times per year. Would it be doable to make these trips by train? I decided to do a pilot trip, and then evaluate if this was something I should and could continue doing. The first thing I did was to join the group Tågsemester on facebook (an awesome group with over 90,000 members that knows everything there is to know about train travel). There I was informed that the best route to Geneva goes via Copenhagen, Hamburg and Basel. With the route clear to me, the next step was to start booking tickets. The travel agency used by the university could not offer help with train tickets outside of Sweden (hopefully this will improve on July 1st when our new travel agency Egencia takes over), so I booked the tickets for each leg of the trip myself from the train provider in the respective country. I booked Stockholm-Copenhagen with SJ, Copenhagen-Hamburg with Deutsche Bahn, on the leg Hamburg-Basel I took the night train operated by ÖBB, and my Basel-Geneva ticket I booked with SBB/CFF/FFS. With all the tickets securely stored on both laptop and phone I headed to the central station in Stockholm.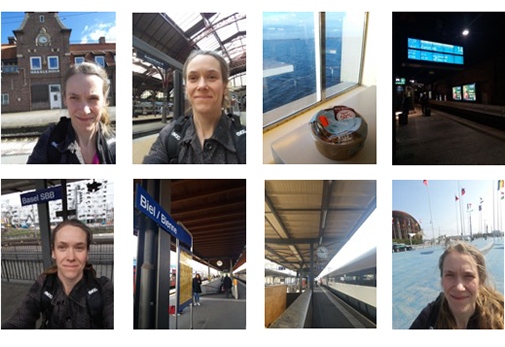 Stockholm - Copenhagen - Hamburg- Basel - Genève
The train from Stockholm C departed at 09:25 on Sunday morning. After a change of trains in Hässleholm, I arrived in Copenhagen at 14:48, according to schedule. After having bought some take-away dinner at the grocery store on the station I jumped on the train to Hamburg at 15:35. At Rödby the train boarded the ferry to Puttgarden, and I took the opportunity to eat my dinner while enjoying the wonderful view. At 20:16 I arrived in Hamburg, again without delays. Now it was time to board the night train to Basel with departure at 21:02. I had the pleasure of sharing my compartment with a mathematician who had done his PhD at ETH and now worked with steering of industrial robots and a German student in classical languages. We got engaged in an interesting conversation covering science, culture, the EU, the environment and the job market for academics before it was time to go to bed. After a good night's sleep with a podcast in my ears (nights trains do make a lot of noise) I arrived in Basel at 07:37. Since breakfast (coffee and bread rolls) was included in the night train ticket I could directly board the next train at 08:03. After a couple of train changes in Switzerland I finally arrived at Gare Cornavin in Geneva at 10:45 on Monday morning.
After a week at CERN it was time to take the train back home. I left Geneva at 17:42 on Friday afternoon and was back in Stockholm at 21:36 on Saturday night. On my way home I got to enjoy the magic scenery that only a train ride in Switzerland can offer. And I also had time for a couple of hours of sightseeing in Copenhagen while waiting for the train to Stockholm.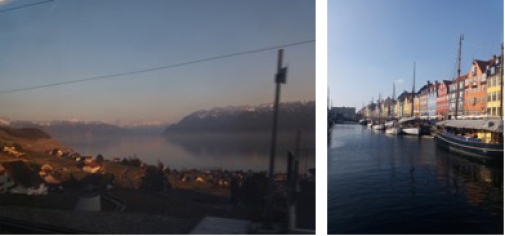 The many pluses of train travelling
The trip whetted my appetite. Going through Europe by train offers time for both work and contemplation, as well as beautiful views and interesting meetings. Since my pilot trip, I have been flying to CERN once and taken the train twice. For meetings within Sweden it has been no problem whatsoever to stay on the ground - I have taken the train to Luleå, Lund and lots of places in between. Sure, going by train takes longer. But if you anyway have articles, applications or theses to read, you can use that extra time well. And as a bonus, you get to enjoy being an active player in the transition to a carbon-neutral society that needs to come and that is becoming more urgent every day. By actually doing something you can go from feeling hopeless to a feeling of hope.
- Sara Strandberg, researcher at the Department of Physics
[1] https://data.riksdagen.se/fil/71585E86-515B-440A-971A-E2C66D9C62E6