Nextcloud - cloud storage and backup
Fysikum Nextcloud is a cloud storage, backup and collaborative online editing suite. The service and data is solely hosted at Fysikum. Data is stored on a storage server in a RAID-Z2-configuration with snapshotting and on a physically separated backup system duplicating all snapshots. During spring 2020 the system is in an experimental testphase.
The Fysikum Nextcloud service can be accessed at nextcloud.fysik.su.se. All Fysikum employees have acces to the system through the central Stockholm University SSO login. When using SSO login Nextcloud will only retrieve your principal name, email and name for creating your user account.
The storage is currently limited to about 3TB and will be upgraded to about 100TB, shared with the HPC cluster home directries, during march 2020.
Accessing, uploading and sychronizing data with Nextcloud
There are three ways to access data:
Through the webinterface at nextcloud.fysik.su.se.
Using the Nextcloud client on your Windows/Linux/MacOS/Android/iOS device.
Mounting a network drive with the webdav protocol
Installing the Nextcloud client
Nextcloud provides apps for Android in the Play Store and iOS in the AppStore, desktop clients for Windows, Linux and MacOS, and a PPA for Ubuntu.
During the installation you must provide the client with the server address https://nextcloud.fysik.su.se/ and authenticate with your SU account.
In the client it is possible do configure where the data should be storded locally as well as which folders should be syncronized at all.
Mounting a network drive using WebDAV
WebDAV mounts can for example be used if data should not be stored on the server only, or the graphical client is not availabe as for example on a linux server.
Nextcloud provides instructions for different use cases.
The URL has the format https://nextcloud.fysik.su.se/remote.php/dav/files/username@su.se/, where username is your SU username. Subdirectories can be accessed by https://nextcloud.fysik.su.se/remote.php/dav/files/username@su.se/some/subdirectory. If you need to provide a password for access you must generate a new app password. In the upper right corner of the webinterface click on your initial, select "Settings" and open the "Security" tab. At the end of the page you can generate a new password.
Collabora Online Editing
Nextcloud supports collaborative online editing through Collabora Online. Uploaded MS Office and LibreOffice documents are edited by double clicking on a file.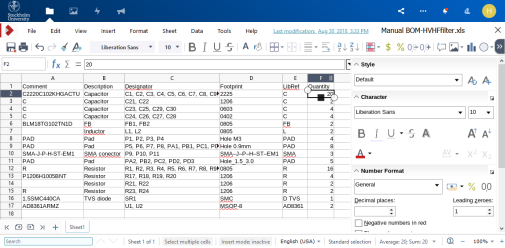 New files can be created in Nextcloud by clicking on the icon to create new files.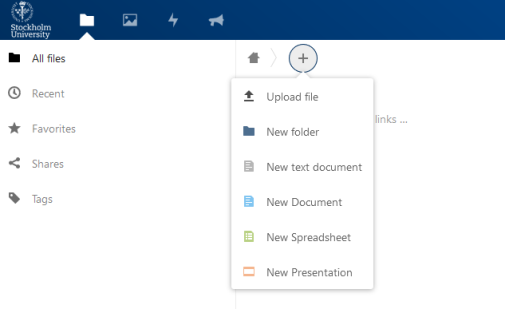 Using Nextcloud for backups
You can configure Nextcloud desktop clients to syncronize a folder on your local computer to a certain destination of your Nextcloud storage.
Files and folders in Nextcloud have a version history. Old versions of a file can be accessed by opening the file details and selecting the Versions tab. Deleted files are kept in the deleted files tab.
Additionally, system administrators have snapshots of the full file system. Snapshots are taken every 10 minutes and kept several hours, hourly backups are kept several days, and weekly and monthly backups for even longer periods of time. In case of emergency contact anybody from the systems group (dsa@fysik.su.se) as soon as possible to prevent a possible automatic cleanup of backup data.
Automatically removing files after time period
You can set a file to be automatically deleted after a certain time period. To do this it is enough to tag the file with the delete-30-days, delete-90-days or delete-1-year to delete the file after a month, three months or one year respectively. An email notification will arrive the day before the file is deleted.
In order to set tags right click on a file and select "details". In the details pane tags can be set by clicking on the three dots button and selecting "tags", as shown below: