University account
The university account consists of a username and password that you can use to log in to a number of IT services at Stockholm University.
In addition to login, the university account also gives you access to file storage, wireless internet, My university portal, Mondo learning and collaboration platform, as well as databases, e-journals and e-books in the library and more.
To get your University account contact SUKAT administrators at Fysikum.
NOTE! The university account is personal and you use it throughout your employment / study time.
Please keep your username and password safely.
Account regulations
The head of the Department of Physics has decided that:

Every employee, or person working on behalf of the Department, must sign a confirmation
that he or she has read the "Handling of computer accounts at the Department of Physics.pdf"
in order to obtain (or keep) a computer account authorisation at SU/Department of Physics. See attached files below (both English and Swedish versions).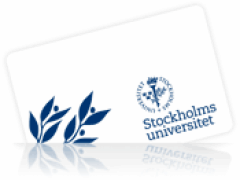 Universitycard
With the SU account you get a university card that works as a loan card, print and copy card and allows you to use the library's e-resources.
Account Management
In Account Management you can manage your university account, for example enable wireless networks (eduroam), change your password, block university cards, etc. Log in to http://kontohantering.su.se