Policy Brief: European chemicals regulation needs greater transparency
To meet the challenges of chemical risks in everyday life, risk assessments under the REACH registration process must be improved. One key element in this transformation is to introduce greater transparency.
Regulation of chemicals under REACH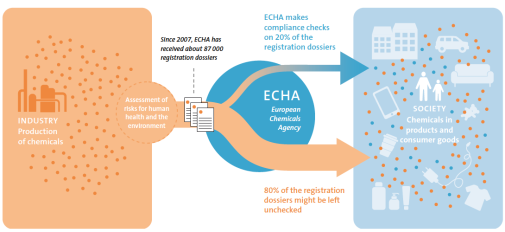 In the REACH legislation, the chemical industry is responsible for assessing risks for human health and the environment for chemicals registered on the European market. The registration dossiers are sent to the European Chemicals Agency (ECHA) where only a small percentage per tonnage band is checked for compliance with the REACH legislation. Recently ECHA announced an increase in the number of dossiers it will check from 5% to 20%. Consequently, the majority of the registration dossiers will not be checked. According to the European Commission's own investigations, more than half of the dossiers that were checked turned out to be non-compliant.
Illustration: Elsa Wikander/Azote
Background
In our daily lives we use a wide range of chemical-intensive products such as construction materials, textiles, cars, electronics and toys – and the use of chemicals in society is increasing every year. This requires an improved ability to understand, identify and manage potential chemical risks to human health and the environment.
In 2007, the European chemicals legislation REACH (Registration, Evaluation, Authorisation, and Restriction of Chemicals) was adopted to ensure that risks with chemicals are adequately controlled. However, the processes for identifying and taking appropriate regulatory measures against potentially harmful chemicals are still slow in relation to the rate that chemicals are being put on the European market.
To meet the current challenges regarding chemicals in everyday life, the structures for the control and gathering of chemical information under the legislation must be improved. One action that might improve the preconditions for using REACH to identify chemicals of concern for human health and the environment is to introduce significantly greater transparency in the registration process.
Recommendations
To the European Commission:
Investigate and suggest changes in the REACH legislation that further increase its transparency.
Investigate the possible negative consequences of conflicts of interest in the REACH registration process, and consider the option of having an independent third party perform chemical risk assessments.
Increase the number of dossiers that ECHA has to review in order to promote increased quality of chemical risk assessments.
To the European Chemicals Agency:
Further explore how dissemination of risk assessments and toxicity studies can be enhanced within the current REACH legislation.
Implement and enforce a common method with clear criteria and guidance for evaluating toxicity studies, as well as a template for transparent reporting of assessments.
To the chemical industry:
Support transparency initiatives and make the toxicity studies used for concluding on chemical risks fully available for independent scrutiny.
Read and download the Policy Brief (pdf):

European chemicals regulation needs greater transparency (1712 Kb)
Read an interview with author Marlene Ågerstrand at the web magazine Baltic Eye:
Last updated: June 25, 2019
Page editor: Lisa Bergqvist
Source: Östersjöcentrum