Policy Brief: Improving manure recycling in agriculture
Phosphorus is a finite resource; efficient usage and recycling are essential. Recycling human sewage can help close the phosphorus cycle, but only partially meets circular economy goals. Phosphorus recycling efforts must not neglect manure.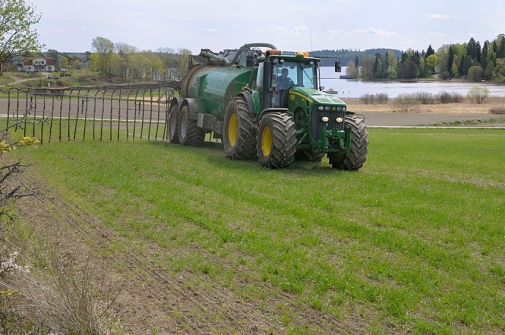 Background
All life depends on phosphorus. But it is a finite resource for which there is no substitute. The inefficient and wasteful use of phosphorus in the agri-food system has implications for sustainability and also contributes to eutrophication of lakes, streams, and coastal areas. The responsible and sustainable use of phosphorus requires better use and re-use in all sectors of society, especially in agriculture.
The EU Circular Economy Action Plan has generated interest in recycling phosphorus contained in human sewage in agriculture. This effort is an important step in closing the phosphorus cycle. However, there is greater potential to improve the efficiency of manure used as crop fertiliser. In the Baltic Sea catchment, the amount of phosphorus in manure is more than 3 times greater than in human sewage.
By using manure more efficiently, mineral fertiliser imports could be reduced by 0,11 - 0,17 million tons, compared to about 0,036 million tons by using sewage sludge. This would reduce phosphorus surpluses and the risk of leakage to inland waters and the Baltic Sea.
Policy recommendation
There is potential to make progress towards the goals of the Baltic Sea Action Plan by increasing the recycling of phosphorus in agriculture and reducing over-fertilisation.
National actions should not neglect manure.
Increase the use of locally produced feed in animal husbandry in order to reduce imports of phosphorus to the Baltic Sea region.
Facilitate the trade of recycled fertilisers by, for example, supporting the proposed EU fertiliser trade legislation.
Improve the use efficiency of manure use in agriculture by, for example, setting legal limits for fertilisation of soils and supporting farm extension on nutrient management, including soil nutrient mapping.
All countries around the Baltic Sea should urgently comply with the EU Urban Waste Water
Directive. The directive needs to be reviewed and sharpened.
Read and download:

Policy brief: Improving manure recycling in agriculture (533 Kb)

References: Improving manure recycling in agriculture (247 Kb)

Policy brief: Improving manure recycling in agriculture. Polish version (485 Kb)
CONTACT
Michelle McCrackin
Limnologist, Baltic Eye, Baltic Sea Centre
+46 (0)8 16 17 78, michelle.mccrackin@su.se
Annika Svanbäck
Agronomist, Baltic Eye, Baltic Sea Centre
+46 (0)8 16 31 50, annika.svanback@su.se
Last updated: November 21, 2017
Page editor: Isabell Stenson
Source: Baltic Sea Centre