Policy Brief: The internal phosphorus load
The accumulated pool of phosphorus on land receives much less attention than the pool in the Baltic Sea, despite being substantially larger and the ultimate source to the sea. Actions taken to reduce the internal load will not address the causes of eutrophication. Instead, actions must focus on improving both nutrient use efficiency in agriculture and sewage treatment.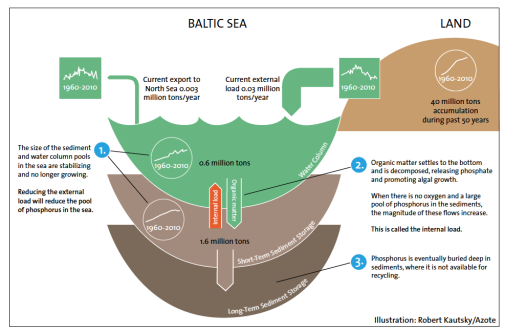 Internal load is a release of phosphorus, originating from the land pool, from the sediments to the water column. Sources: Gustafsson et al. (2012) Reconstructing the Development of Baltic Sea Eutrophication 1850-2006, Ambio, 41:534-548, and Baltic Eye compilation of FAOSTAT data.
Read and download:


The internal phosphorus load – recycles old sins (606 Kb)
CONTACT
Annika Svanbäck
Agronomist, Baltic Eye, Baltic Sea Centre
+46 (0)8 16 31 50, annika.svanback@su.se

Michelle McCrackin
Biogeochemist, Baltic Eye, Baltic Sea Centre
+46 (0)8 16 17 78, michelle.mccrackin@su.se
Last updated: October 11, 2016
Page editor: Nastassja Ekelöf
Source: Baltic Sea Centre