Linking human and natural sciences
EVENT
Date:
15 December 2016, 4.00 PM
-
15 December 2016, 7.00 PM
Venue:
Vivi Täckholmsalen, NPQ-building, Svante Arrhenius väg 20A
The fourth Baltic Seminar focused on how to link human and natural sciences to improve the state and management of the Baltic Sea. A cooperation very much needed, all speakers agreed, and also pointed out the challenges in this task. A panel talk with discussions and questions ended the seminar before our customary Baltic Bar started. This time with a Christmas theme.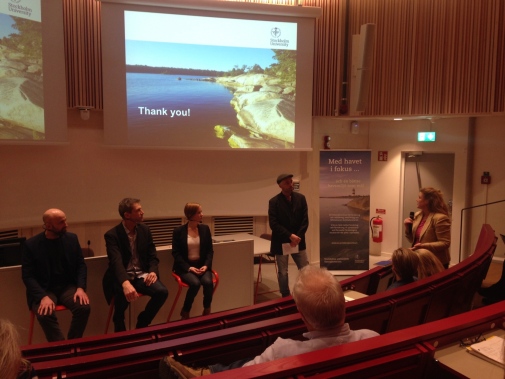 The scientific leader of the Baltic Sea Centre, Christoph Humborg, held a short welcoming speech and delivered a message from the Stockholm University board.
– The board stressed the importance of fostering interdisciplinary research between the faculties. The climate and the Baltic Sea are both excellent themes for such work.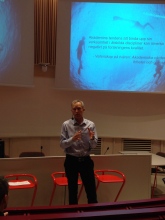 Johan Rockström from the Stockholm Resilience Centre continued by saying that the Baltic sea is a very interesting study object for many various disciplines. Its importance for the people living around is indisputable, both emotionally and practically. Climate change now seems to be a new important driver in the destiny of this enclosed sea.
- A big challenge is that the natural scientists concept of biosphere based fundamental boundaries contradicts the view of many social scientists. They mean that everything is negotiable, and this is often causing heated discussions.
Promises and dangers of transdisciplinay environmental research
Andreas Duit from the Department of Political Science agreed that it is complicated and causing a lot of friction with multi/inter/trans-disciplinary research.
- It is still worth it though, or else I would not continue doing it.
After discussing promises and dangers, he landed in a few practical recommendations:
Organize by interesting research questions that benefit from a trans-disciplinary approach rather than to fulfill desires from above
Ensure equal status among the disciplines in cooperation projects
He ended with a plea for help in an ongoing project; GRACE - Causes and effects of environmental governance in a comparative perspective
- Does environmental policies actually work?
Jonas Ebbesson from Department of Law continued the speeches with an overview of how environmental law goes across all other law areas, and of course many other subjects, including many of the natural sciences.
Frame your research for impact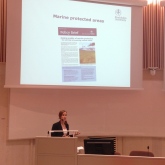 The mini-keynote speeches ended with Hanna Sjölund from Baltic Eye at the Baltic Sea Centre. She started with a quote: "Without the social science perspective the natural science becomes rather meaningless."
- We need to frame our work to ensure that the results have an impact, even if it's a piece in the puzzle and not the whole puzzle. Because at the end of the day that is what we want, impact and to make our research useful for the society.
She stressed the importance of asking these questions at the very beginning of the project: Which ongoing processes does this research link to and at what stage? For whom is it intended and what can the impact goal be? Can other disciplines be brought in?
The talks ended with questions and discussions with the audience and the panel, moderated by Henrik Hamrén, science journalist at Baltic Eye.
About the seminar
Baltic Seminar is a seminar serie aiming to promote current marine issues related to Stockholm University, and strengthen its marine research community. All university employees and students are welcome, as well as affiliated who work with marine science!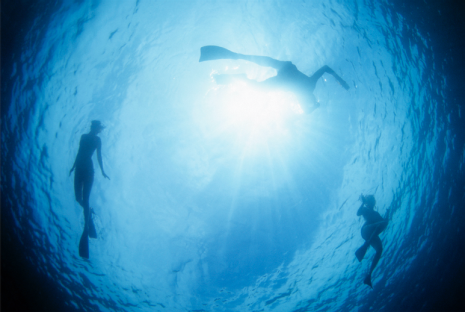 Baltic Seminar 16:00-17:00
Baltic Sea – linking human and natural sciences
Introduction by Johan Rockström, Stockholm Resilience Centre
Mini-keynote speakers:
Andreas Duit, Department of Political Science: Promises and dangers of transdisciplinay environmental research
Jonas Ebbesson, Department of Law: Environmental law in transdisciplinary contexts
Hanna Sjölund, Baltic Eye at the Baltic Sea Centre: The role of societal and human context in communicating environmental science to decision-makers
Moderated discussion including audience questions.
Tweet with #balticseminar and @ostersjocentrum
Baltic Bar 17:00-19:00
Glögg och pepparkaka!
Mingle with bar at cost price, please bring cash.

WELCOME!
Last updated: December 16, 2016
Page editor: Nastassja Ekelöf
Source: Baltic Sea Centre