Askö Laboratory - a centre for marine research
Askö Laboratory is located on the beautiful island of Askö in the archipelago south of Stockholm. The field station is a national resource, open to any scientist with an interest to study the Baltic Sea or to conduct environmental monitoring. There are also possibilities to arrange university courses or host conferences and meetings.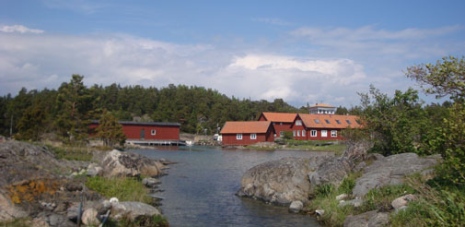 Read our short 'Good to know' info here!
Research, education and meetings
The Askö Laboratory belongs to Stockholm University Baltic Sea Centre and is situated 80 km south of Stockholm in the archipelago of Trosa (58° 49.5' N, 17° 39' E). The field station is a national resource and marine research and field work is conducted all year round.
Both Swedish and international scientists are welcome to use the facilities on the same terms and conditions.
All Swedish universities are welcome to arrange marine courses on Askö. The laboratories and station is optimized for groups of 16 students.
Everyone working within the marine research or management field is welcome to organize meetings, as long as they have a connection to the marine environment.
The surrounding environment with hundreds of islands and skerries is inspiring, and enhance the feeling that you are in the middle of the sea. Facilities are available for both field and laboratory studies and experiments, including boats, thermoconstancy rooms and much more. If you need assistance, the staff is available and can help out. Just make sure you contact us in advance and let us know what you need. We have lecture halls, a library, meeting rooms, and leisure areas that are well-equipped for many creative activities.
Modern and functional premises
The research station offers research vessels, boats, laboratories, office spaces, field equipment and the possibility to scuba dive. About 40 people can be accomodated at the same time.
Expert personnel
None of our scientists works permanently from the field station, but they come here to conduct experiments, field work or marine monitoring. The research station, however, have five permanent staff members that manage bookings, and run the facilities, including vessels, boats and laboratories. The staff work normal working hours – they come in with the morning boat route, and leave the island with the last evening route. Transports to and from Askö, is therefore only possible during weekdays.
Beautiful and clean environment
Askö is about 10 km long and only 1 km wide. The whole island is a nature reserve managed by a resident landholder, who have cows and sheep to help maintain the landscape open. It is surely a beautiful setting, with everything the Swedish nature can provide; mushrooms, berries and both sand- and rocky beaches.
Last updated: March 31, 2020
Page editor: Nastassja Ekelöf
Source: Östersjöcentrum